Meals On Wheels
Serving up friendship and nutrition in both group settings and home delivered meals.
Donors
$150,000 +
Plath Family
Mt. Adams Orchards Corporation – Jack & Connie Bloxom
United Way of Central Washington
$25,000 – $49,999
Bill & Sally Douglas
J. Greenwood
Funding Partnership with United Way of Central Washington, the Latino Community Fund, and the Yakima Valley Community Foundation
$10,000 – $24,999
Sundquist Family
Harvest Foundation
John & Maureen Adkison
Paul & Terri Schaake
Verbrugge Family
Yakima Valley Farm Workers Clinic
Mark & Jorae Hill
Yakima Federal Savings & Loan
Albertsons
Andrew DeGiorgio
$5,000 – $9,999
Madelyn Carlson
Health Alliance Northwest
Yakima Downtown Rotary
Heartlinks Hospice & Palliative Care
Global Health
Hyatt Family
$2,000 – $4,999
Tamaki Foundation
Aaron & Andrea McCoy
PayneWest Insurance
Eric & Nancy Gustafson
Roger & Betty Strand
Methodist Church
Gesa Credit Union
Chad & Kate Urwin
Franz Bakery
National Association of Nutrition & Aging Services
In Honor of Debbie Sugden
In Honor of Ron Sugden
David Paulson
D. Allen
Tree Top
Group Health Foundation
Dutch Bros. Coffee
Up to $1,999
Stacy Kellogg & family
Abeyta Nelson Injury Law
Greg & Cathy Lighty
Tony & Karla Farina
Mike & Lisa Picatti
Ron's Collectibles
David & Cindy Hargreaves
Heritage Bank
Target
Paul Kaschmitter
Bill Jenkin
Joan Souders
MSI Construction
A. Richards
Vanguard
C. Sell
Bill Kloster
T. Leinbach
Jana Johnson
Good Samaritan
Dana Dwinell & Ken Rose
Johnson Orchards
Kim Yeager
Abadan Copiers & Printers
S. Bilger
New York Life Group Benefit Solutions
L. Papernick
Craig & Jan Mendenhall
Capital Advisors Wealth Management
Elsa Flores
Tim St. Martin
David Burke
William Pickering
J. McDonald
John Gribsy
In Memory of Sally Sobolik and Mary O'Leary
Gladys Silbernagel
Yuridia Equihua
Doug & Ann Field
GCACH
Nancy Gustafson
Erendida Ramos
Eagles
J. Hansen
J. Shields
Nathan Nobbs
Angel Keller
Carrie Boutilier
Ashley Eilers
Kristin Melcher
Marcy McDonals
Cynthia Magruder
Tim Sullivan
Lisa Kime
W. Pickering
H. Porter
Claudia Eilers
Holly Porter
Cuevas & Villa
K. Shannon
Jennifer Bliesner
Denise Sunberg
L. Mahoney
G. Silbernagel
Julie Grasher
Gricel Villanueva
A. Field
Susan Cunningham
Rosa Uberuaga
B. Maloy
M. Wall
Jennifer Barnett
Victoria Alvarez
Tim St. Martin
Elsa Flores
L. Papernick
Monica Vargas
Sergio Ramon
M. Wall
S. Bilger
G. Kaminski
Renee Biles
D. Kuper
M. Venable
Abadan
B. Damm
A. Contreras
T. Cooper
F. Cruz
E. Smith
S. Kuper
S. Weaver
B. Bernfeld
Johnson Orchards
Pro Farms
J. Thompson
Good Samaritan
J. Shira
K. Blakney
R. Baird
C. Calvillo
C. Martinez
J. Horn
T. Leinbach
J. Vonfeld
Brita Carlson
Shawna Spradlin
Eligibility Requirements and Locations
ALL DINING ROOMS ARE NOW OPEN
Please call to register for a meal at: 509-426-2601 or 1-855-426-2601
or click on the APPLY FOR SERVICES HERE button below.

DINING ROOM INFORMATION
age 60 or older
no cost, $2.50 suggested donation
serving lunch at 8 locations Monday – Friday
11:00 am -11:30 am with the following exceptions: Harman Center: Mon-Wed only The Salvation Army: Mon, Thurs., & Fri. only
reservations need to be made at least the day before you plan to attend by 3:00 PM, to assure that a meal will be there for you
serving traditional American or Hispanic meals
reservations are required by 3:00 pm the day before
transportation is available pending location, please call 509-457-1111 for more information
For more information please call us at
509-426-2601 or 1-855-426-2601
or click on the APPLY FOR SERVICES HERE button above.
Meals On Wheels
1008 W. Ahtanum Road, Suite 3
Union Gap,WA 98903
DINING ROOM LOCATIONS
Henry Beauchamp Community Center
1211 S. 7th St.
Yakima
Harman Center
101 N. 65th Ave.
Yakima
Union Gap Senior Center
1000 Ahtanum Rd.
Union Gap
Salvation Army
310 N. 16th Ave.
Yakima
Washington Fruit Community Center Miller Park 502 N. 4th St. Yakima
Selah Civic Center
261 S. 1st.
Selah
Sunnyside Senior Center
1400 Federal Way
Sunnyside
Grandview Community Center
812 Wallace Way
Grandview
DINING ROOMS PROGRAM
Congregate program serves hot meals in various locations throughout Yakima County. Our meal sites offer a chance to meet new friends and enjoy healthy, nutritious meals in friendly surroundings.
Transportation is available to our dining rooms in most locations if needed. We suggest reservations be made at least the day before you plan to attend by 3:00 PM, to assure that a meal will be there for you.
Seniors at all dining rooms can choose between traditional American or authentic Mexican meals
SEVEN (7) DAY FROZEN MEAL HOME DELIVERY PROGRAM
The home delivery program is by qualification based on the senior being homebound and have no one to prepare a meal for them and are no longer able to prepare a nutritious meal on their own.
Weekly frozen meal delivery is available for those that need it. If delivery is not an option to the senior then a family member or friend can pick up the 7 day frozen meals once a week at one of our dining rooms or central office.
MEALS FOR PETS PROGRAM
Provides dog and cat food, pet supplies such as cat litter, beds, leashes, collars and treats for homebound seniors on the home delivery program.
Click here for English Menu | Spanish Menu
Sign up for our quarterly Newsletter!
TYPE EMAIL ADDRESS HERE
COOKING RECIPES
March: March for Meals
April: Volunteer Appreciation Month
May: Older American's Month Annual Dinner Dance May 12 3:00pm-7:00pm
June: Farmers Market Vouchers distribution week – 6/5-6/9/23
Volunteer
Meals On Wheels needs your help!
SIMPLY CALL 2-1-1
HERE IS HOW YOU CAN HELP
When congress created the Older American Nutrition Program, it was created with the intent that many of the jobs be done with volunteers. Therefore, the funding only covers the basic program necessities of food product, equipment, supplies and minimal staffing to cook the meals. The idea behind volunteers was simple: using seniors to perform much of the work at meal sites and with home delivery gave the seniors opportunities to maintain physical activities, those who felt they couldn't afford to pay for meals would have a chance to 'work' for their meal, and above all, it gave them a sense of purpose, the feeling of being needed and for many – a reason to live.
The Meals On Wheels program of Yakima County depends on volunteers in various capacities to operate senior dining rooms (when open) and home delivery. Volunteers are not just seniors, they are all ages, from high school to concerned fully employed people who want to help out during their lunch hour.
It can be daily during the lunch hour, once a week or whenever your time allows. Without volunteers, our program would be significantly reduced.
If you are interested in volunteering please fill out the volunteer application or call us at 509-426-2601 or toll free 1-855-426-2601.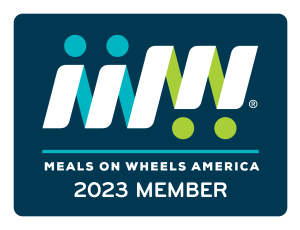 serving lunch at the dining sites
cleaning at all kitchen/dining sites
home delivery drivers
warehouse help with food packaging, organization, and keeping the warehouse clean